Investors
Investors
AroCell's acquisition of IDL Biotech in 2021 was the starting point for what we call today the new AroCell.
The merger of the two companies created a new stronger company with a broad product portfolio.
AroCell develops, manufactures, and supplies diagnostic tests for cancer and bacterial infection. Our broad product portfolio is used by clinics and hospitals to ensure that patients receive the best possible treatment.
AroCell has a complete infrastructure in-house, from research and production to sales and marketing. That makes us unique for a company of this size. We grow organically through growth in existing markets as well as opening new markets. We also develop new products that we can sell through our existing sales channels. Overall, we are well positioned for strong organic growth.
Our vision is to offer a product portfolio that in the best possible way contributes to creating the conditions for short treatment times and increased quality of life. We want to be the obvious choice within our segment in the markets where we are established. The market for our products is large and we are a smaller player with significant growth potential so far.
The new AroCell has just started its journey.
About us
We provide knowledge to decision.
AroCell is a Swedish diagnostics company with the vision to improve the monitoring of oncological and bacterial diseases. We have a broad product portfolio of IVD tests that deliver high-value clinical information for the detection of diseases.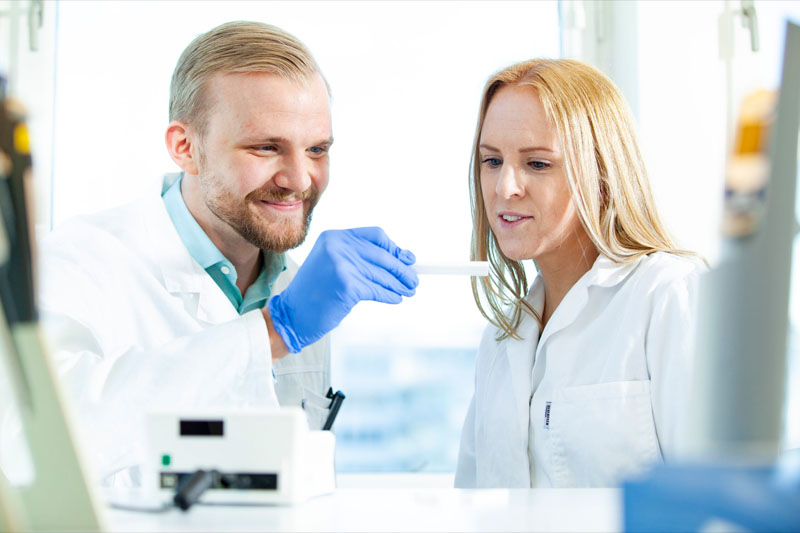 Oncology
Diagnostics for oncology
Cancer is one of the leading causes of death worldwide, despite advancing knowledge. To improve cancer patient management, there is a clear need for efficient diagnostics tools to capture this critical clinical data.